Rave Reviews
We feel there is nothing more important than feedback from our customers in helping us grow and improve our business and welcome your comments about our natural stone products, selection and customer service. We strive to achieve your satisfaction but also want to know if can improve in any way, so, thank you - in advance - for taking the time to comment on your experience at Pacific Stonescape.
Ordered an inuksuk, a tall lantern and a sphere to sit on a stone pedastal right before Covid it. So had a wait to get these items but was it worth it! Gorgeous pieces, beautifully packaged and perfect in my half acre NC meadow. Steve was awesome and will order again.
---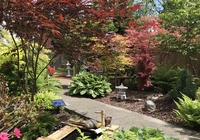 Items were well and securely packed, and were in perfect condition when unwrapped. These pieces are markedly superior in detail and overall quality to similar examples I've seen from other rockeries and suppliers. I strongly recommend Pacific Stonescape if you are in the market for these beautiful objects for yard and garden. I will be ordering again.
Thanks again, Jim Betts Seattle
---

Just thought we'd share a photo of our water feature creation. We're not in the landscape business but we've received a lot of compliments so we wanted to share. Sorry about the pic quality - it's a phone!
---