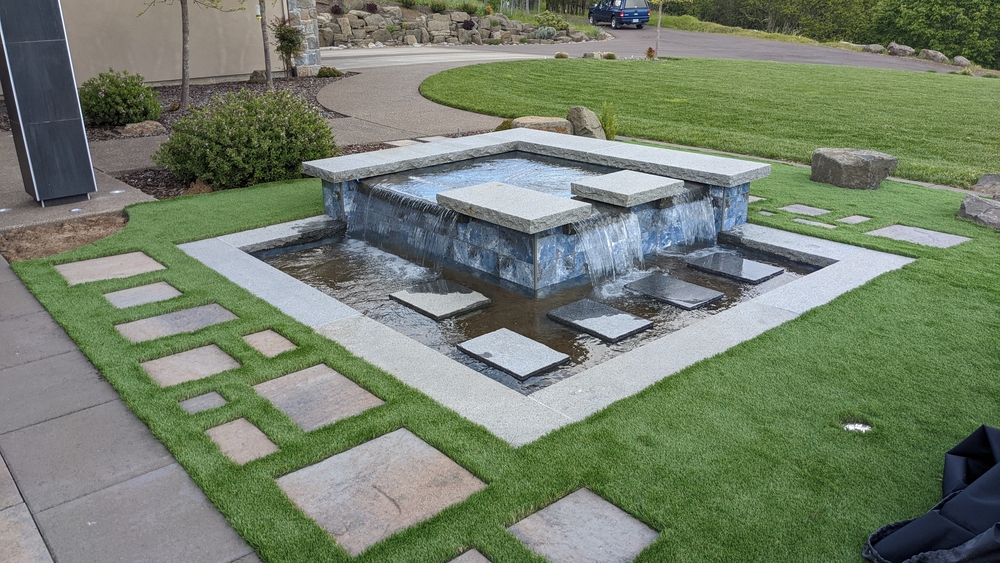 This fountain is centrally located in the owner's front yard, viewable from the living room, patio and front entry. With a wonderful view of the Valley and Cascades, the fountain sits in a very sunny spot, and invites people to get their feet wet, cool down, and enjoy the sights and sounds.
The inspiration for this design came from Bill's admiration of the granite slabs at Pacific Stonescape. Utilizing a modern design with natural materials suits the owner, house and setting. This led to the scaled model, which helped all of us to visualize how the pieces come together.
The construction of this feature involved craftmanship at each step, anticipating how all the pieces come together. The crew managed the heavy lifting and delicate fits, as well as the technical plumbing and masonry. Turf and the surrounding patio connects the fountain to the setting, right into the middle of the owners' lives.
Kristine Jensen of Radiance by Design provided an elegant lighting design which we installed for the wonderful night time effect, which is enjoyed from the large living room and kitchen windows.